(f21 skirt, thrifted top, shoes from Ross)
I put this outfit on as it is in the first picture but I felt too girly. Nothing wrong with being too girly but Its just not me. Maybe my style is more like New York than it is a flowery LA.. So I added the blazer and the socks for an edgier trendier look. I haven't worn this anywhere. I put this together at midnight last night because I found myself restless and unable to entertain myself, so why not try on outfits right? I think the need to add the dark blazer and socks might have surfaced from watching too many FALL 2010 Runway shows... so here is my attempt to fall out of Fall and jump into Spring.
These are the trends that I'm excited for.
I'm digging these pale nail colors. I recently saw a blogger with a pale gray and I loved it! But I'll try some colors as well.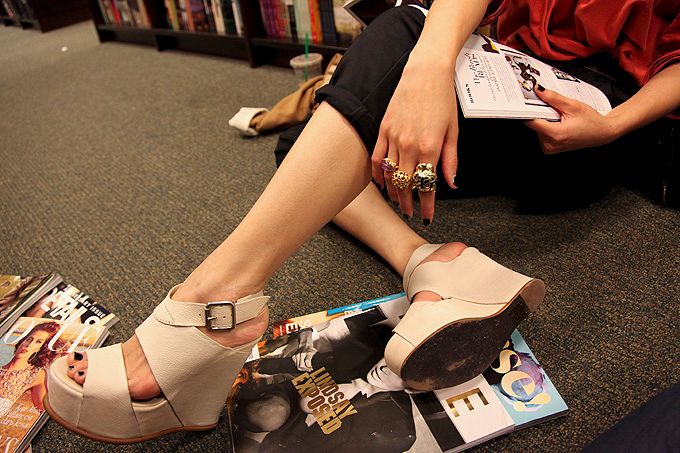 Super tall nude wedges. I can't wait to get my hands on some similar to these. Photo from thatschic.net.
Here is a way less expensive option from Charlotte Russe.
I love socks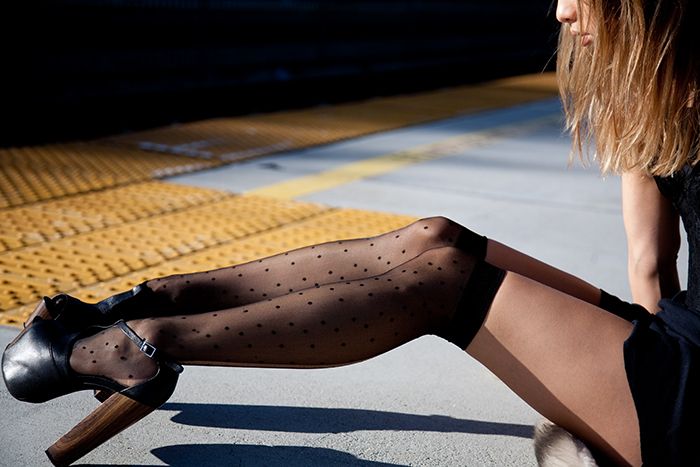 I love all sorts of legwear actually. Especially these sheer knee high socks.
I've been drooling over these shoes for a while but they are sold out everywhere. I hope my mother can find them in time for my birthday!
photo from fashiontoast.com
Crochet everything is so hot this spring. These booties are the most adorable thing!
Urbanoutfitter shoes and skirt.
Why is it that everyone seems to have found one of these at a thrift store except for me? Not paying $60 for one!
This Spring I want to mix prints... I must find prints first. Wouldn't this top and shorts look great together? Both from Topshop.
I want rainboots to toughen up any other girly outfit I might run into. It also does rain a lot in FL.
The awesome SARAH JANE from Love, fashion and finding me, honored me with my first award ever :]]Thank you darling!
1. Thank the person who gave you the award.
2. Name 10 things that make you happy.
3. Pass the award to 10 other bloggers and inform them.
Chocolate Ice cream
accomplishing things

my friends
65 degrees and sunny weather
Good movies with even better soundtracks
Planet earth and all its wonders.
Creativity. Mine and others.

Finding something awesome. Whether its a sale, a thrifted treasure or a heart shaped strawberry.

Funny people
Heart to heart conversations
The award goes to...
annabu
Big daddy
fancykazoo
fashion zen
fashionnerdic
Frou Frou Fashionista
June Paski
luxenoir
sex and coffee
Spin Dizzy Fall